Post by mrp on May 5, 2014 2:09:55 GMT -5
Archival notes, these review began in early 2013, continued through Claw #8 (review #34) which took place in April 2013. There was a hiatus of nearly 8 months, before the review thread returned, but it moved to Arak reviews instead of finishing Claw. I present here only the reviews, the reactions and other side discussions have not been reproduced. With that we begin the archive of reviews...
Inspired by Shaxper's myriad review threads, here is a review thread for sword and sorcery themed comics.The title of the thread is a nod to one Gary Gygax, co-creator of one of the most influential and popular rpgs that embraced the sword and sorcery ethos, and a man I had the rare privilege of working with shortly before his passing.
I will be reviewing comics from different publishers & eras. There's no premeditated plan as to which books I will review in what order.
What the ratings mean:
10/10: Superior, near flawless, outstanding. Nothing is perfect but this comes close.
9/10: Excellent, possible minor quibbles but nothing to mar enjoyment of the story or art
8/10: Very good; no major complaints but enough minor quibbles to keep it from the upper echelon
7/10: Above average, enjoyable but may have noticeable flaws, however they can be overlooked and still enjoy the book.
6/10: Acceptable average work, warts and all
5/10: Almost but not quite good, enough flaws to hinder enjoyment of the overall work
4/10: A failed attempt. There may be quality elements here or there, but not enough to save the book or make it worthwhile
1-3/10: Abysmal failures all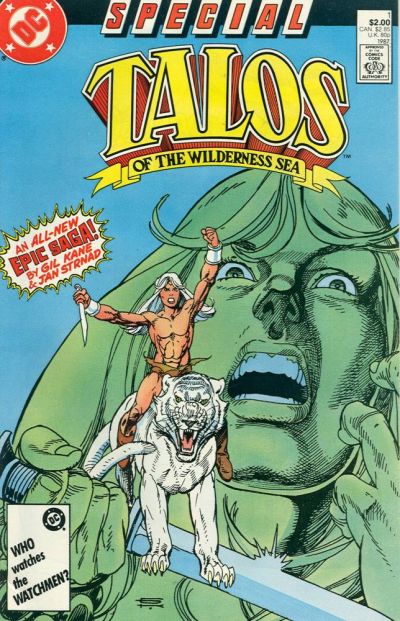 Title:
Talos of the Wilderness Sea #1
(one-shot)
Written by:
Gil Kane and Jan Strnad
Art and cover by:
Gil Kane
Letters:
Gaspar (Saladino);
Colors:
Greg Theakston
Edited by:
Julius Schwartz
Publication date:
1987
Publisher:
DC Comics
"To the Wilderness Sea"
(45 story pages, color)
Story:
7/10
Art:
8/10 (would be higher if not for the god-awful coloring job)
Overall Impression:
7/10
Synopsis:
A slave hunting party, led by a man named Jaggar, raids a village of beast men. When Jaggar pursues the fleeing leader, he finds him by the side of his mate, who is in labor. The child that is birthed is human though, not a beast-man, and Jaggar takes the child for his own agenda.
Jaggar's own mate is midwife to the king, whose offspring have all been stillborn or died shortly after birth, and each time the king has blamed the midwife's and killed them. He left his mate in attendance of the queen in labor, so Jaggar returns, he slips the baby inside the palace and gives it to his mate to pass off as the king's son when the baby being delivered dies.
The king is deceived and names the child Carn Whitemane, due to his shock of white hair, and the boy grows towards manhood, trained as a warrior, but not sharing all of his father's values.
As he grows, he learns of a prophecy among the beastmen, of a destined champion known as the Talos who will free the people from slavery. The hero is also associated with a special mount, a giant white feline beast. Of course, such a beast begins to prowl and hunt the king's soldiers soon afterwards.
Soon the time comes for Carn's test of manhood and the ordeal of his right of passage is to survive a month in the wild. During this time the cat confronts, tests, and bonds with Carn, Jaggar hunts him down to try to eliminate him so his secret can never be revealed, and Carn is reunited with his birth mother accepting his destiny as the Talos.
Karn leads the people against Jaggar's band, and Jaggar is killed as Karn and his mother give the call for the beastmen to band together and rise up from bondage.
Commentary:
Oh for a decent coloring job. I knew I was in trouble on page two when there were hot pink horses. Not only were some of the coloring choices bad, nothing blended together or even seemed to share the same palette, the coloring of the beastmen was inconsistent, starting as yellow, going to orange in places, screwing up and having them human flesh colored in others, and then back to a sickly yellow.
Apparently, this was intended as a 12 issue maxi-series when pitched, and the outline by Kane given to Strnad to flesh out. The two had recently worked on the Sword of the Atom mini together when this occurred, but delays because of Kane being given other projects for DC caused Strnad to drop out, and Roy Thomas was going to come on board to write, but never did. Kane then took 2 years off form doing comics and this was his first project upon his return and he ended up scripting it himself.
Speaking of his scripts, the narration is a bit heavy-handed, but Kane does a credible job of evoking the prose style of many sword and sorcery tales. Where the script falls down is in conveying some of the information revealed in the afterward, like this is set on a post-apocalyptic earth. There was a vague sense of this from the story, but nothing explicit in the script itself, the art, or the naming conventions to confirm this.
The story itself was nothing earth-shatteringly original. It could have been the first act (or maybe the first two acts) of a typical 80's sword and sorcery flick (Beastmaster with Marc Singer comes to mind as one in this ilk by way of example).
In the afterward by Joey Cavalieri, Kane goes out of his way to deny this is a sword and sorcery tale, trying to point to thepost-apocalyptic setting as making it different form the average barbarian tale, and pointing to the scope of the setting as being more than most S&S stories provide. He also talks about the story of Moses being the archetype he built the story around, and Carn's tale does follow that model, but looking at it objectively, this is a pretty typical sword and sorcery tale despite Kane's protestations otherwise.
The biggest WTF moment in the story though was when the tell tale birthmark-or sign he is the Talos-manifests as a red mask (i.e. the color of his skin changes to resemble a mask)- when he gets angry. It made it feel like someone wanted to include a super-heroic element to make the story more palatable to typical comics readers. Just didn't seem to fit well with everything else going on in the story.
All in all though, it was an enjoyable story (except for the gaudy colors) and it's a shame that Kane never got to tell the rest of Carn's story somewhere (at least not that I know of).
-M