Post by shaxper on Aug 24, 2014 19:18:08 GMT -5
Note:
This thread was initially begun at the old Classic Comics board and has been reposted here. Responses posted prior to the switch-over are reproduced here as embedded images.
________________________________________________________________________________________________________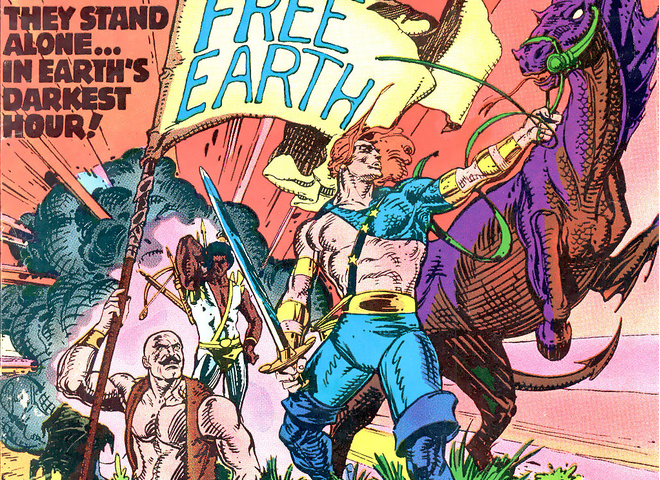 (This is now a completed reviews thread, which means only that I've already read and reviewed all of it. Feel free to continue to comment on any aspect of these reviews or even to wax nostalgic for the series)
Overview:
Killraven was both a bold concept and an absolute mess to begin with. From what I can tell, Roy Thomas had the idea to do a series in which the invaders from War of the Worlds returned to Earth and won, Neal Adams added in the idea of a barbarian/superhuman resistance leader, the series got passed off to a bunch of other people at the last moment, and it didn't really find its ground until it was already staring the threat of cancellation in the eye.
This is a thoroughly uneven series, with lots of highs and some tremendous lows, as well as a ton of inconsistencies in continuity and even in the basic premise, but it also has some bold ideas and a bit of heart.
Worthwhile To Read?:
Yes, though you'll wade through a lot of bad stories before it begins to feel worthwhile.
Key Issues/Highlights?:
AA #18 (first appearance, origin that is later significantly revised, and a really lousy starting point that's fun to look back upon), #21 (introduction of Carmilla Frost and Grok), #23 (bad issue, but it's a major point of continuity that's often referred back to), #26 (fun/memorable concept at the core), #27 (another major point of continuity that gets referenced a lot), #31 (McGregor and Russell at their best), #34-39 (the series finally hits its stride), Marvel Graphic Novel #7 (strong but problematic final story 7 years later).
Worth Re-Reading?:
Key issues only. I don't think I could push through the whole mess twice.
Also Worth Noting:
My interest in this series spun out of my enthusiasm for the 1970s Curtis/Marvel Planet of the Apes run. While the series was being produced in America on a (first) bi-monthly and (later) monthly schedule, its Marvel UK counterpart was published weekly. However, the UK edition was still only setup to reprint American content; it had no staff of its own. So, in order to maintain enough content for weekly publication, the UK title resorted to incorporating Killraven into the Planet of the Apes universe. By replacing all instances of the word "martians" with "apes," making some alterations to the artwork, and changing Killraven's name to "Apeslayer," this run became a new source of content that allowed the UK Planet of the Apes series to keep pace with its American counterpart.